For over 15 years, the Emirates Stadium has been the home of Arsenal. In this guide we'll be telling you everything you'll need to know about the 60,000 capacity arena, including how to get there.
Opened in July 2006, Arsenal have won a total of eight trophies since they made the move – four FA Cups and four Community Shields.
Construction of the stadium cost a total of £390 million after it was initially commissioned back in 2004 – however, planning of the new ground began as early as 1999, when the Gunners, then resident at Highbury, were looking to bring their health and safety standards up to date.
If you're not an Arsenal regular and don't know where the Emirates is in London or the best way to get there, don't worry – we'll take you through all of that and more in this comprehensive guide.
Where is the Emirates Stadium?
The Emirates is located in the Holloway area of North London.
The exact address of the stadium is: Hornsey Rd, London N7 7AJ.
How to get to the Emirates Stadium
If you're travelling to the Emirates Stadium, the best and most reliable way of reaching the ground is to use the Tube.
There are two Tube stops very close to the stadium – Arsenal and Holloway Road, which are both on the Piccadilly line.
There are two others that aren't quite as close, but are in the vicinity of the ground: Highbury & Islington (Victoria Line, London Overground and Great Northern rail) and Finsbury Park (Victoria and Piccadilly lines and Great Northern rail). Should you choose to take either of the latter two Tube routes, they are around a ten minute walk away from the stadium itself.
If you want to travel to the ground by train, the nearest station is Drayton Park – please note, however, that this station is closed on match days.
Should you wish to take the bus to the Emirates Stadium, you will need to get off at the Holloway Road bus stop (the nearest bus stop to the stadium). Buses on this services run approximately every ten minutes. You can also get off the bus at Lough Road and Seven Sisters Road, but these stops are a little further away.
If you want to park up at the stadium itself, you will need to book a parking spot before the designated deadline. These deadlines vary depending on what day the game you'd like to attend falls on. Here's a quick list of all the corresponding deadlines:
Weekend games – Deadline 9am Thursday
Monday night game – Deadline 9am Thursday
Tuesday night fixture – Deadline 9am Friday
Wednesday night fixture – Deadline 9am Monday
Thursday night fixture – Deadline 9am Tuesday
Parking to visit the Emirates Stadium can otherwise be tricky. The nearest car park in the area is located at Fonthill, with the address of Fonthill, Goodwin Street, London Borough of Islington, London, N4 3HH. It will cost you £20 to park here for the day. It is also a 27 minute walk away from the ground.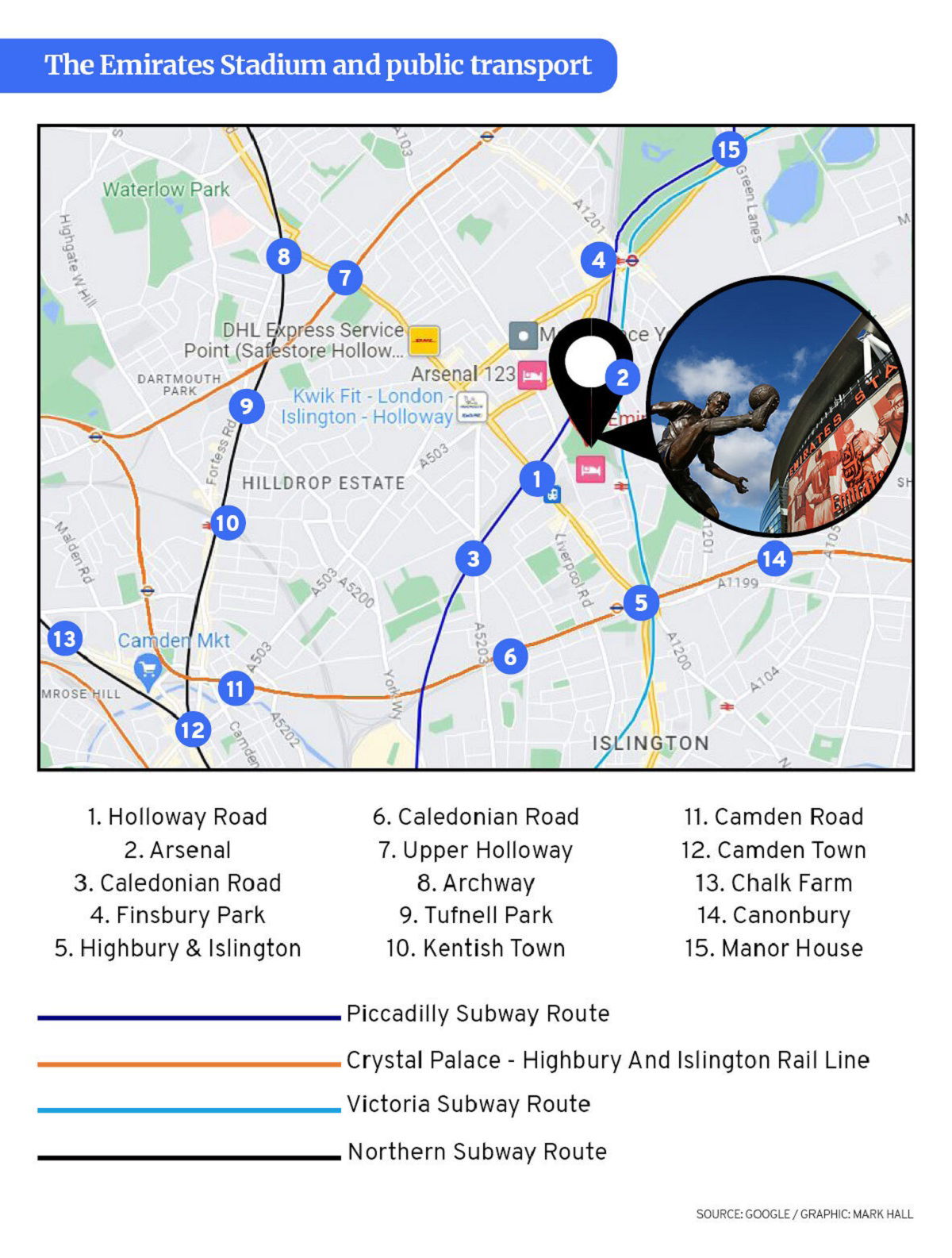 What can you take into the Emirates Stadium?
As part of their safety policies, there are certain items that you will not be allowed to bring into the Emirates Stadium.
Alcohol, glass containers, cans, flasks, gas canisters and plastic bottles containing more than 500ml of liquids are banned. Air horns, musical instruments, flares, fireworks, laser pens and large banners (more than 2m x 1m) or ones that feature an offensive message are also prohibited.
Moreover, large lens cameras, video recording equipment, selfie sticks and large umbrellas are prohibited. If you wish to bring an umbrella into the ground, you will need to bring one of the small, folding variety that can be easily stored away.
On top of this, tools, large bags, prams and knives (including all other weapons) are not allowed inside the building. The Emirates Stadium is a non-smoking facility – therefore, cigarettes and e-cigarettes of all varieties are banned.
With that out of the way, here is a list of items that you are allowed to bring into the Emirates Stadium: small compact cameras, folding umbrellas, small bags (no bigger than a sheet of A4 paper), non-offensive flags/banners (no larger than 2m x 1m), clear plastic bottles (with no more than 500ml of liquid inside) and crutches/walking aids.
A full list of what you can and cannot take into the Emirates Stadium was published by the club itself in 2021.
How much does it cost to watch Arsenal play?
Watching an Arsenal game at the Emirates Stadium can vary depending on several factors – the category of the game, your membership type (if you have one) and your age
Arsenal ticket prices for members for the upcoming 2023/24 Premier League season are as follows:
Category A: Adult £80 – £103; Young Adult £60 – £77.25; Cannon £34.50 – £44.25
Category B: Adult £46 – £59.75; Young Adult £34.50 – £44.75; Cannon £19.75 – £25.75
Category C: Adult £32.75 – £41.50; Young Adult £24.50 – £31.25; Cannon £14 – £17.75
If you do not have a membership with Arsenal, you will need to buy Arsenal tickets through a third-party reseller, such as Ticketmaster.
Be wary when using this method – people selling their tickets third party sites are not regulated by the club or the Premier League. As such, they may be selling their tickets for higher prices than they were originally bought for.
For much more info on ticket prices, you can consult our full guide to Arsenal tickets and ticket prices ahead of the upcoming season. You can also check out our guide to Arsenal season tickets and how much they cost.
Where can you eat near the stadium?
This is London, so you're spoilt for choice. There are several multicultural restaurants nearby if you're looking to grab something to eat. The Jerk Chicken serves Caribbean food, Wolkite to the north-west is an Ethiopian restaurant and SSAM offers Korean cuisine.
If you're looking for something a bit more basic, there's a McDonald's to the west of the ground (located on Jackson Street) and a Tesco Express just to the south east.
Where did Arsenal play before the Emirates Stadium?
Before moving to the Emirates Stadium in 2006, Arsenal played their home games at Highbury Stadium. First opened in 1913, Highbury served as the home of Arsenal football club for 93 years.
While at Highbury, the Gunners won the vast majority of their accumulated silverware. In total, Arsenal won ten FA Cups, 13 First Division/Premier League titles, two League Cups and 12 Community Shields at their old stomping grounds.
During one of the last seasons at Highbury, Arsenal completed an almost-unprecedented achievement when they went an entire league season unbeaten – it is now known as the legendary 'Invincibles' season of 2003/04.