A few weeks ago, we asked Arsenal fans to give their views on whether Granit Xhaka should be given a new contract or not in a poll – despite facing criticism in the past, the results were weighted heavily in the Swiss superstar's favour.
According to the results, a staggering 84.83% of you thought Xhaka should be given a new deal – on the flipside, just 15.17% of Gunners fans though the former captain does not deserve one.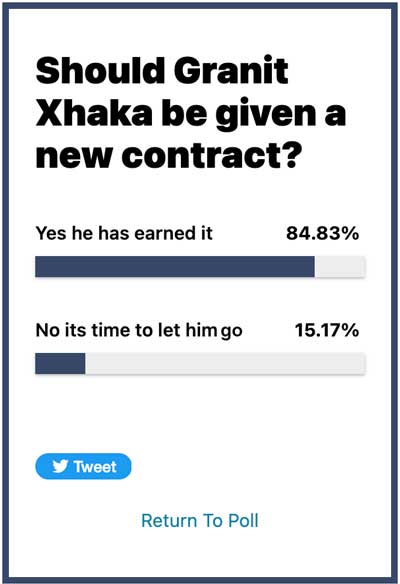 Xhaka, since joining Arsenal in 2016 from Borussia Mönchengladbach, has been something of an underwhelming acquisition. He has often struggled with poor form and disciplinary issues, which ultimately led to him being stripped of the captaincy.
Just when his Arsenal career seemed to be reaching an ignominious end, Xhaka pulled his socks up and is currently enjoying one of the best seasons of his life.
A shift from defensive midfield to box-to-box has certainly helped – the change has allowed Xhaka more creative freedom and license to get forward.
In the current campaign, the 30-year-old has scored seven goals alongside five assists across all competitions. He has played a vital role in Arsenal's title charge, giving their midfield some much-needed muscle to go along with Martin Odegaard's attacking flair.